According to an October 22 report by Xiaoyang Video, Li Ziqi recently agreed to an exclusive interview with CCTV.She said that everyday life content like cooking and cooking may not last, but there is more content in her video, which has lasting vitality.
"What I do with awe is our traditional culture and traditional craftsmanship. I think that will only take hold more and more over time, and it will not go away."
Li Ziqi also said there were three things he most wanted to do. The first is linked to rural revitalization and common prosperity. The second thing is to better inherit and disseminate the traditional culture of "intangible cultural heritage." Guide young people better, not to say that they want to be Internet celebrities, but to be able to establish fair values.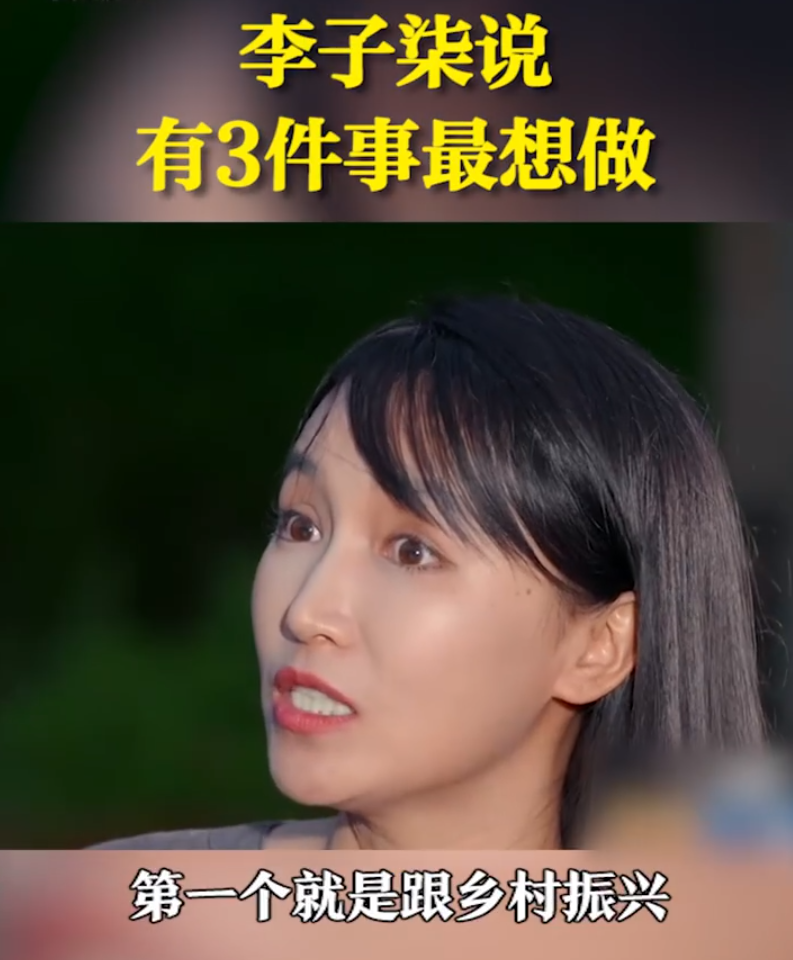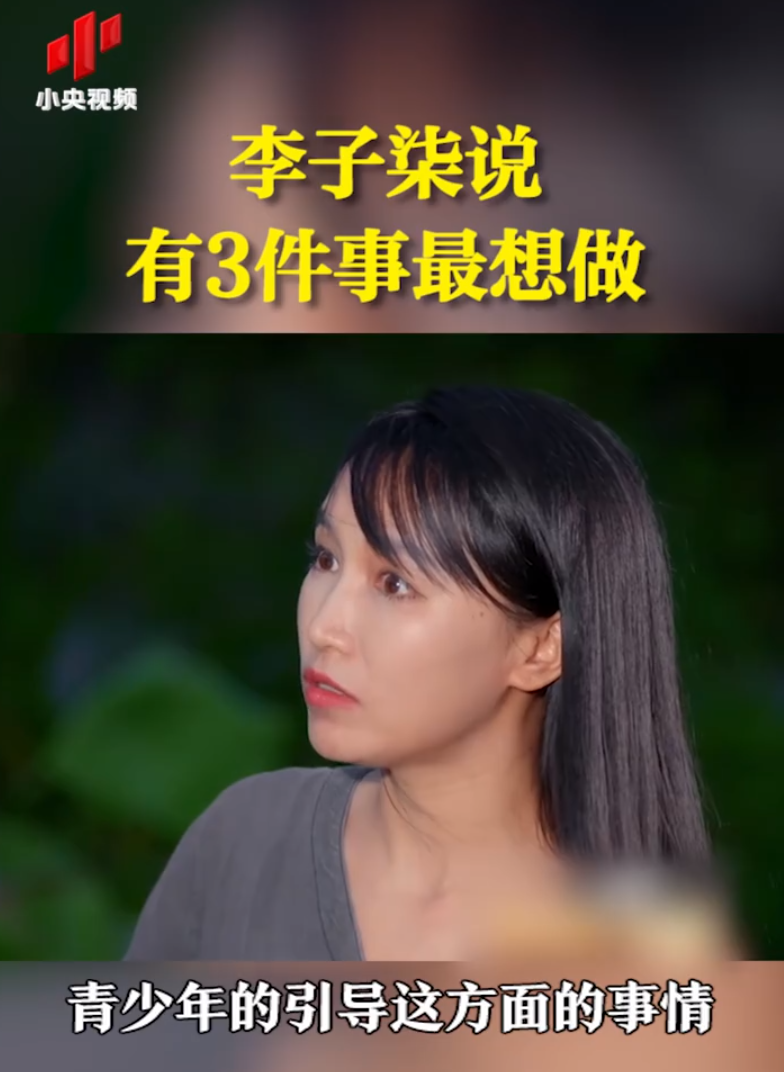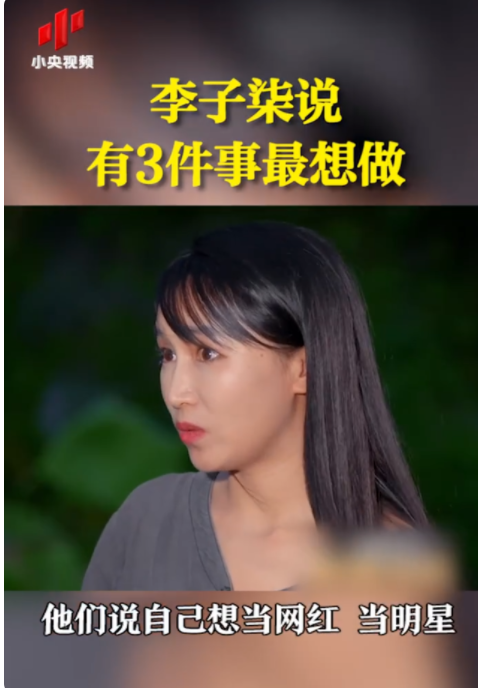 Regarding his success, Li Ziqi said these were the moments that gave him a gust of wind, which made him lucky to stand in front of the short video.
Host Lu Jian mentioned that those videos that focus on food making and craft skills will no longer be popular after a traffic explosion in the short term?
Faced with this problem, Li Ziqi bluntly said that the content of everyday life like cooking and cooking may not last, but there is heavier content in his video, which has lasting vitality. "What I do with awe is our traditional culture and traditional craftsmanship. I think that will only take hold more and more over time, and it will not go away."
It is to highlight thatOn September 21 and 28, the Xinhua News Agency also released two videos of Li Ziqi's interview. In the video, Li Ziqi shared the creative story behind his pastoral life video. Recalling her childhood experience, she said that she had slept in bridge caves and parks. …..
Li Ziqi suspended for 3 months! Various speculations from internet users
It should be noted that Li Ziqi's last video on major platforms stopped on July 14, 2021, on the video "Chai Rice, Oil, Salt, Sauce, Vinegar and Tea". Over the next three months, Li Ziqi's video went into a long "period of shutdown."
On August 26, Li Ziqi's assistant posted on Weibo stating"About the update. Seven sisters have been immersed in content over the past few years and overlooked many practical issues. Now they need to be addressed. I think they will be addressed. All of them know that the former seventh high school did not graduate, and now they have to keep studying and studying. All kinds of knowledge and skills are good things. "

The response from "his assistant" sparked much speculation. Some netizens believe that "something that is a real problem" may be related to the MCN agency signed by Li Ziqi.
In the middle of the night of August 29, Li Ziqi sent a bundle of emojis, With text:"I was disgusted in the middle of the night, so I can't take it so soon?"
Some people asked for unknown reasons, and the answers they got were even more intriguing.
But soon Li Ziqi deleted this reply again.
On the second day, in the early morning of August 30, Li Ziqi posted another update.
Content, amazing: call the police.
Soon, "Li Ziqi reports to the police" quickly appeared on the hot search, sparking much speculation from the outside world.Li Ziqi did not explain the reason for his disgust and appeal to the police.
Mid-September,Even more puzzling is the incident of Li Ziqi's stoppage: Rumor has it that Li Yapeng finished Li Ziqi's team in one go. However, on September 13, Li Ziqi's assistant posted a Weibo to deny that "the team was dug." Li Yapeng also vocally denied it.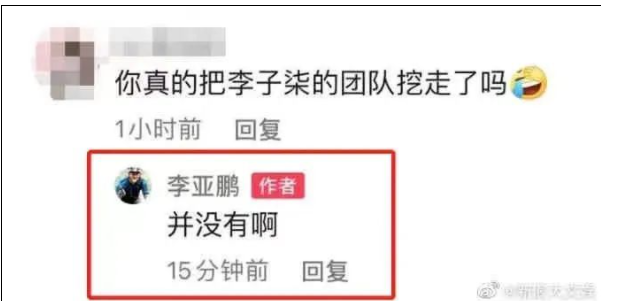 However, the assistant mentioned in his Weibo that Li Ziqi "was settling the issues between the company and the third-party company."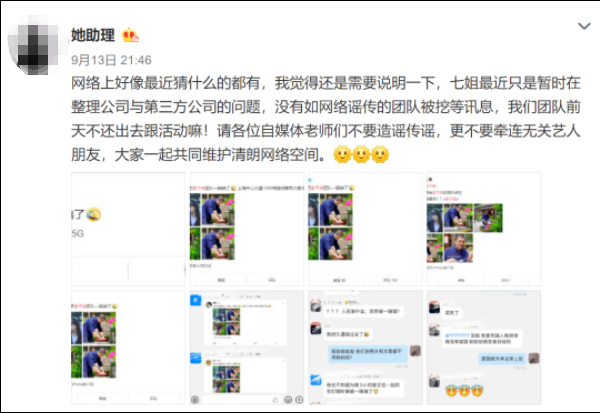 According to the 21st Century Business Herald, an analysis came out: Li Ziqi suffered a big loss in the shareholding structure. "Not only is it deflated because of the other party's use of 'good capital', it is also susceptible to falling into a situation where there is no harvest …". A capital V even pointed out that Li Ziqi should have signed a bill of sale, and that he was jointly responsible. Even if he went out to do it alone, he couldn't do it alone. The other party could continue!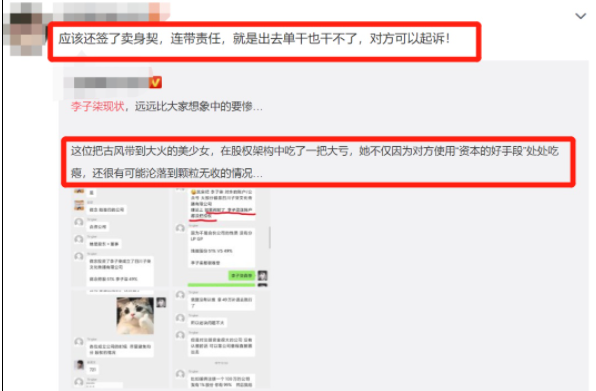 Li Ziqi, real name Li Jiajia, started shooting short videos in 2015.
According to AI Finance and Economics, in 2016 Li Ziqi's Weibo fans were less than 10,000, but he is already well known. Liu Tongming, the veteran founder of Weinian, quickly sensed Li Ziqi's business potential and flew to Sichuan to meet Li Ziqi. The two had a date with a hot pot and discussed cooperation. Li Ziqi focused on the content. For the creation, Liu Tongming is responsible for promoting traffic.
In 2017, Hangzhou Weinian established Sichuan Ziqi, a cultural communication company for Li Ziqi in Sichuan, and Li Ziqi's counterattack began.
According to reports, in the same year, Wei Nian changed its model of cooperation with Li Ziqi from the previous contract model to a joint venture model, and jointly established Sichuan Ziqi Culture Communication Co., Ltd. to jointly prepare Li Ziqi's video. Mark.
In 2018, Li Ziqi's online flagship store officially opened. Oriental cuisine-focused brand Li Ziqi caught the attention of a group of young consumers with its short videos and online traffic benefits. According to previous media reports, annual sales of Li Ziqi's flagship store in 2020 exceeded one billion yuan. However, the qualifications of Tmall Li Ziqi's flagship store business show that Li Ziqi's flagship store is owned by Hangzhou Weinian.
Shareholder information shows that Hangzhou Weinian's largest shareholder is Liu Tongming, with a participation rate of 21%. The second and third shareholders are Suzhou Huaxing Zhihao Venture Capital Center (Limited Partnership) and Beijing Weimeng Innovation and Technology Venture Capital Management Co., Ltd., holding 11.35% and 10.826% respectively. In addition, Beijing Quantum Jump Technology Co., Ltd. owns 1.48% of the shares and is the 15th shareholder. Beijing Quantum Jump Technology Co., Ltd. is a wholly owned subsidiary of Bytedance, and it became a shareholder in July of this year.
Before ByteDance became a shareholder, Hangzhou Weinian had completed 6 rounds of financing. Investors included Huaying Capital, Chenhai Capital, Sina Weibo, Huaxing New Economic Fund, and Zhongyuan Capital.
But Li Ziqi is not on the list of shareholders.
At present, Li Ziqi is the legal representative of Sichuan Ziqi Culture Communication Co., Ltd. (hereinafter referred to as Ziqi Culture), holding 49% of the company's capital, and Hangzhou Weinian Brand Management Co., Ltd. the company's equity.
Assistant Li Ziqi responded
In response to the above news, assistant Li Ziqi responded on social media.
Regarding the update problem, assistant Li Ziqi said that Li Ziqi has been immersed in content for the past few years and overlooked many practical issues. Regarding rumors that the team is being dug, Li Ziqi's assistant said that Li Ziqi recently settled the company's issues with third-party companies, and that there is no situation where the team was dug.
Regarding the dispute between Li Ziqi and Weinian, his assistant said that since the establishment of Sichuan Ziqi culture in December 2017, Li Ziqi has contracted with Hangzhou Weinian without intermediary.
Daily Economic News Comprehensive CCTV, Xinhua News Agency, Open Information, AI Finance and Economics, "Deep Net", Metropolis Express, Red Star News, 21st Century Business Herald, Everyjing.com
"Total travelaholic. Subtly charming zombie geek. Friend of animals everywhere. Music buff. Explorer. Tv junkie."