"He was very happy with it, it has the initials PP and my signature on it. The president and I talked about motorcycles all the time, it was clear that he really understood it," Orelac Racing rider Movisio said in a statement. .
Petr Pavel is a passionate biker, he even arrived at the Mosteck autodrome on two wheels. Before the Superpole race, he circled the starting grid of the royal superbike class, in which König competes. And the twenty-one-year-old then said: "Unfortunately, we didn't exchange a single sentence. He respected that I had to concentrate rather than talk at the beginning. I would like to talk to him about motorcycles once. another time. I had a race helmet ready for him, but that didn't happen because we had planned to give it away at the start of the second race."
Czech President Petr Pavel with motorcycle racer Oliver König and his manager Miloš Čihák.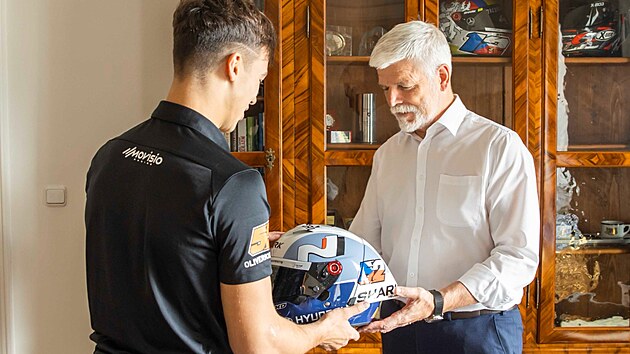 Czech President Petr Pavel with motorcycle rider Oliver König and the helmet he received from him.
An acquaintance of König, who regularly rides motorcycles with the president, helped organize the meeting at Prague Castle. Miloš Čihák, the rider's manager, also arrived. "It was an experience to meet him and talk about motorcycles. He says he rides a lot of miles with them a year. And when it rains it doesn't mean anything at all. If he says there's goes, he will just get on the machine and leave," Čihák described his impressions of the meeting.
However, Petr Pavel probably won't use the racing helmet. "He prefers touring bikes for regular use. Racing machines not so much. But he will put the helmet in his showroom, he liked it a lot," said König, who discussed various other issues. motorcycling with the President. "He told me that he doesn't ride his bike on the highway at all. He prefers lower quality roads, he prefers to take a detour to take advantage of the turns. And that he prefers old-fashioned bikes instead. school and prefers older flip-up helmets.He's a real adrenaline-loving guy.
Racing adrenaline only awaits König in early September in France, when the superbike championship resumes after a break. The Czech driver will try to get the first points of the season.
"Extreme gamer. Food geek. Internet buff. Alcohol expert. Passionate music specialist. Beeraholic. Incurable coffee fan."