news

2023-11-20


During a visit to the Strömbrytarna arm wrestling club, you will find that the atmosphere and the challenge are great. Good camaraderie may be the first thing you notice. Here, everyone breaks up with everyone during training. We hear what club president Roger Eriksson has to say and his future wishes.
After several years with 10 to 12 active members, the Strömbrytarna has now recruited several new young members in recent months, from 4 sub-juniors (7 to 10 years old) and 3 older juniors, the funny thing is that 2 of them are girls, which is something the association lacks, especially since Johanna Eriksson moved to Storuman to attend Armbrytargymnasiet. We have already written about Johanna and her father Roger Eriksson, see the last photo here in the report.
– The sport is open to anyone interested and now the association has a guy named Sebastian Viklund, a wheelchair para-wrestler, who has been training on and off for 2 years. This year, however, he has taken his training to a whole new level, with an investment to participate in the Swedish Championships from 22 to 24/3/2024, the World Armwrestling Championship will be decided this year in connection with the week of the Winter World Championship. in Luleå, says Roger and continues: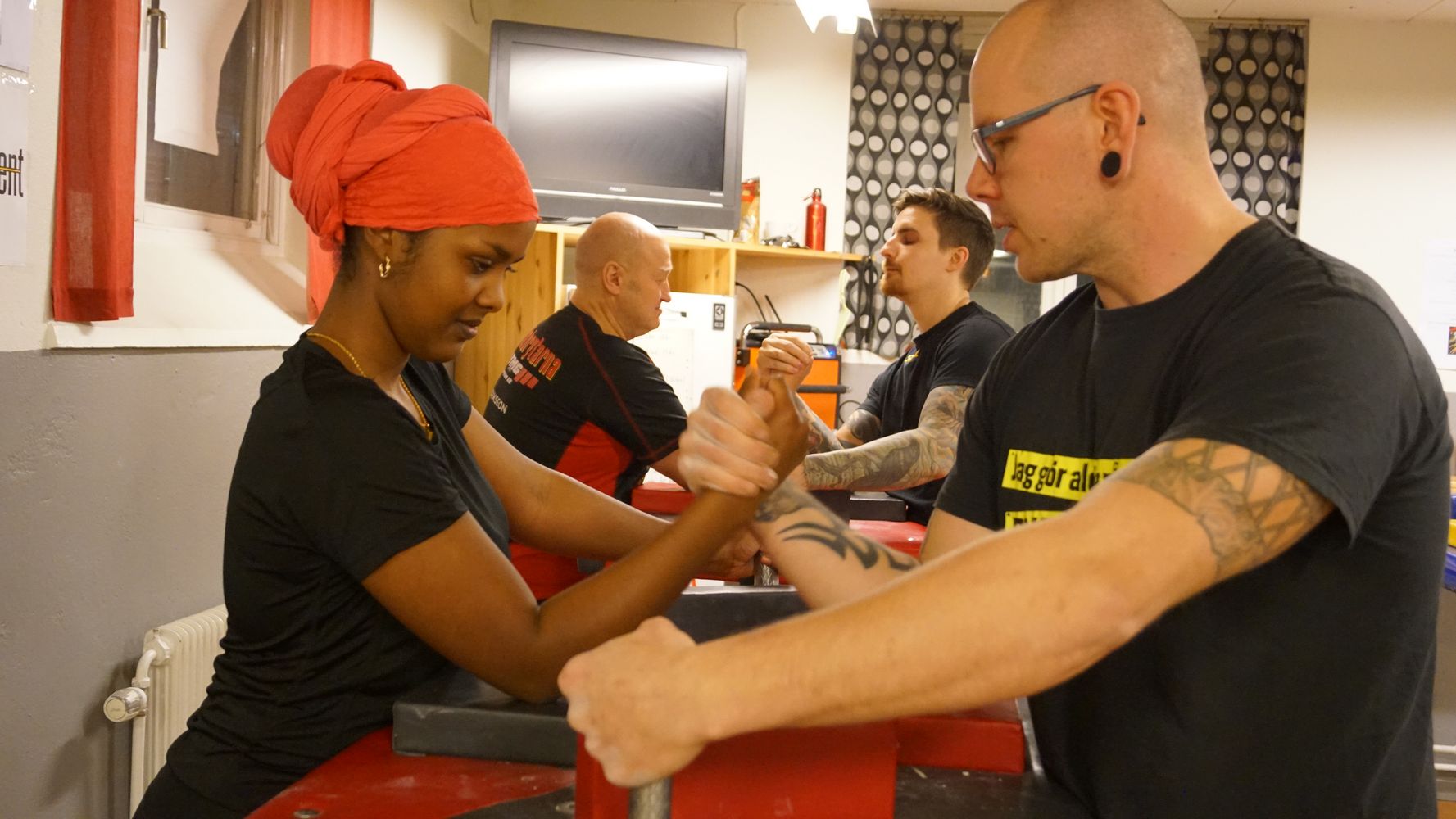 Amran experiences arm breaking with Benny Johansson.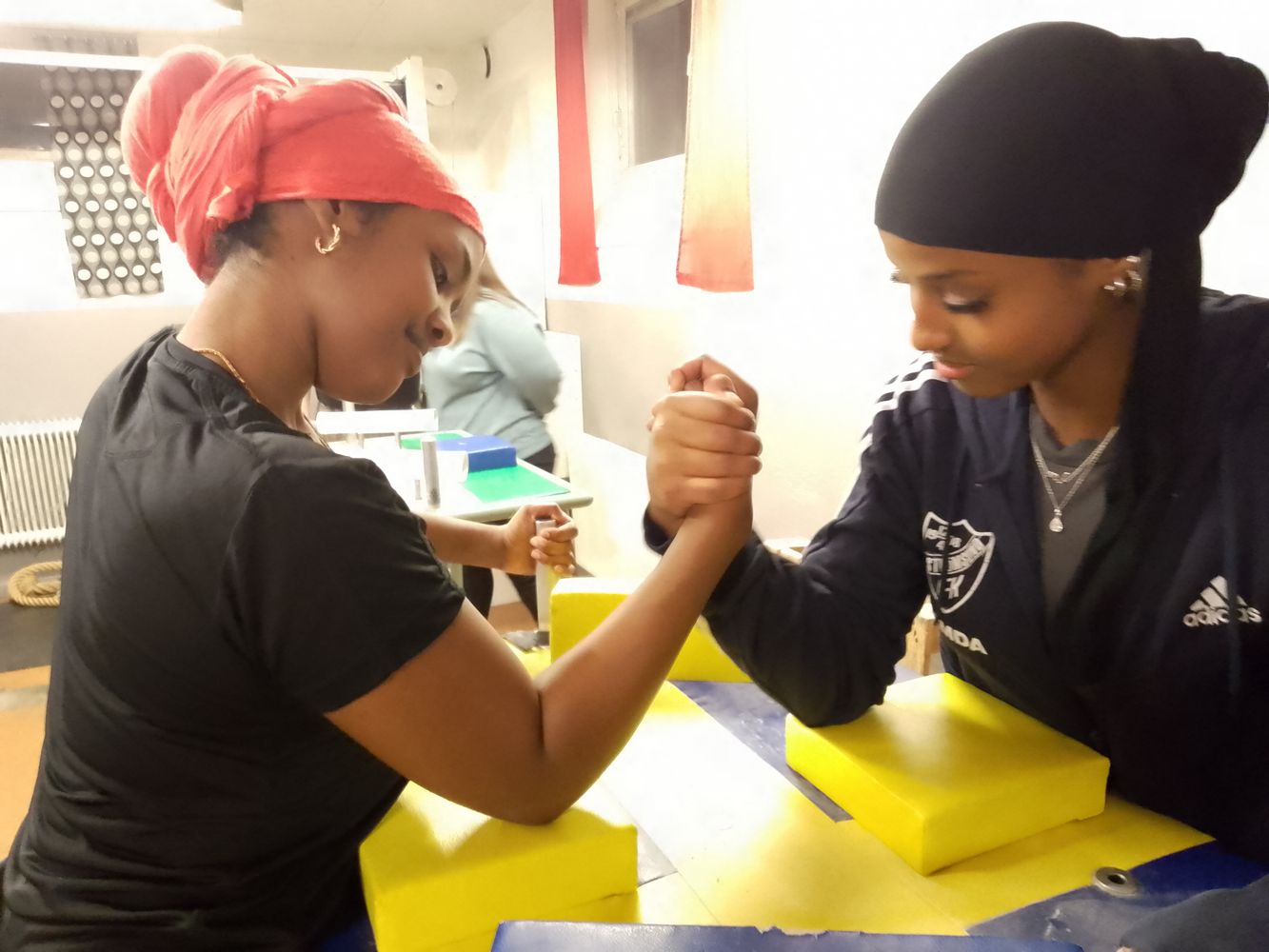 tv Amran and his friend Hamda are in starting position. Photo: Roger Eriksson
– The hope is to find one or more sponsors who can help Sebastian achieve his goal and his big dream. Arm wrestling is a relatively cheap sport in terms of equipment and the Strömbrytarna tries to help with financial support before competitions and some training opportunities, mainly for juniors, but as the association is not so large, there are no financial conditions to cover competitors' travel and accommodation.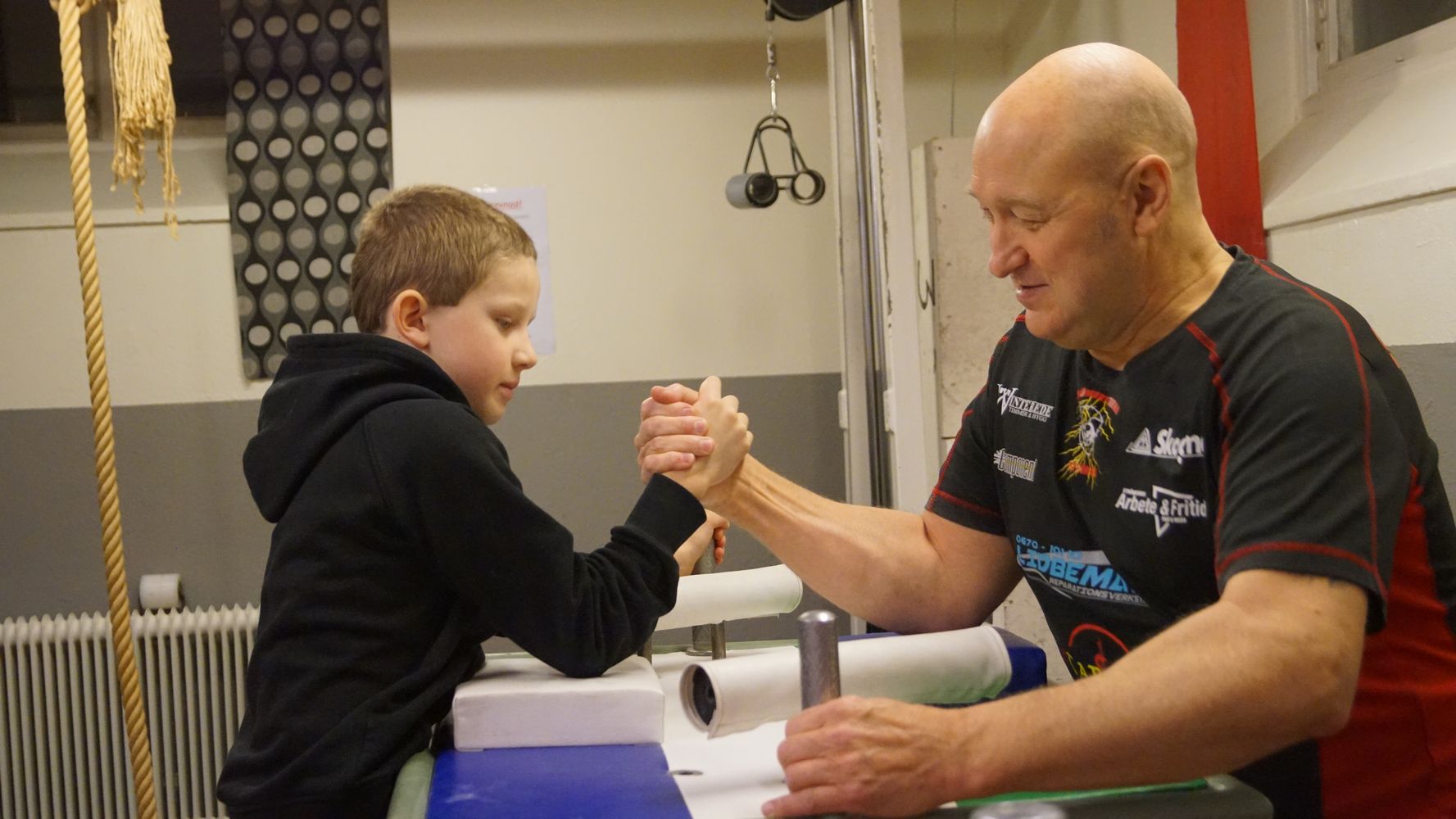 One of the youngest to join the club is nine year old Melker Ross, see photo above, he is delighted to be a part of it and especially among the tall and experienced wrestlers. Before starting arm wrestling, you need to warm up your wrists and shoulders so as not to get tired. But after that, all that's left to do is keep going. Roger tells us more: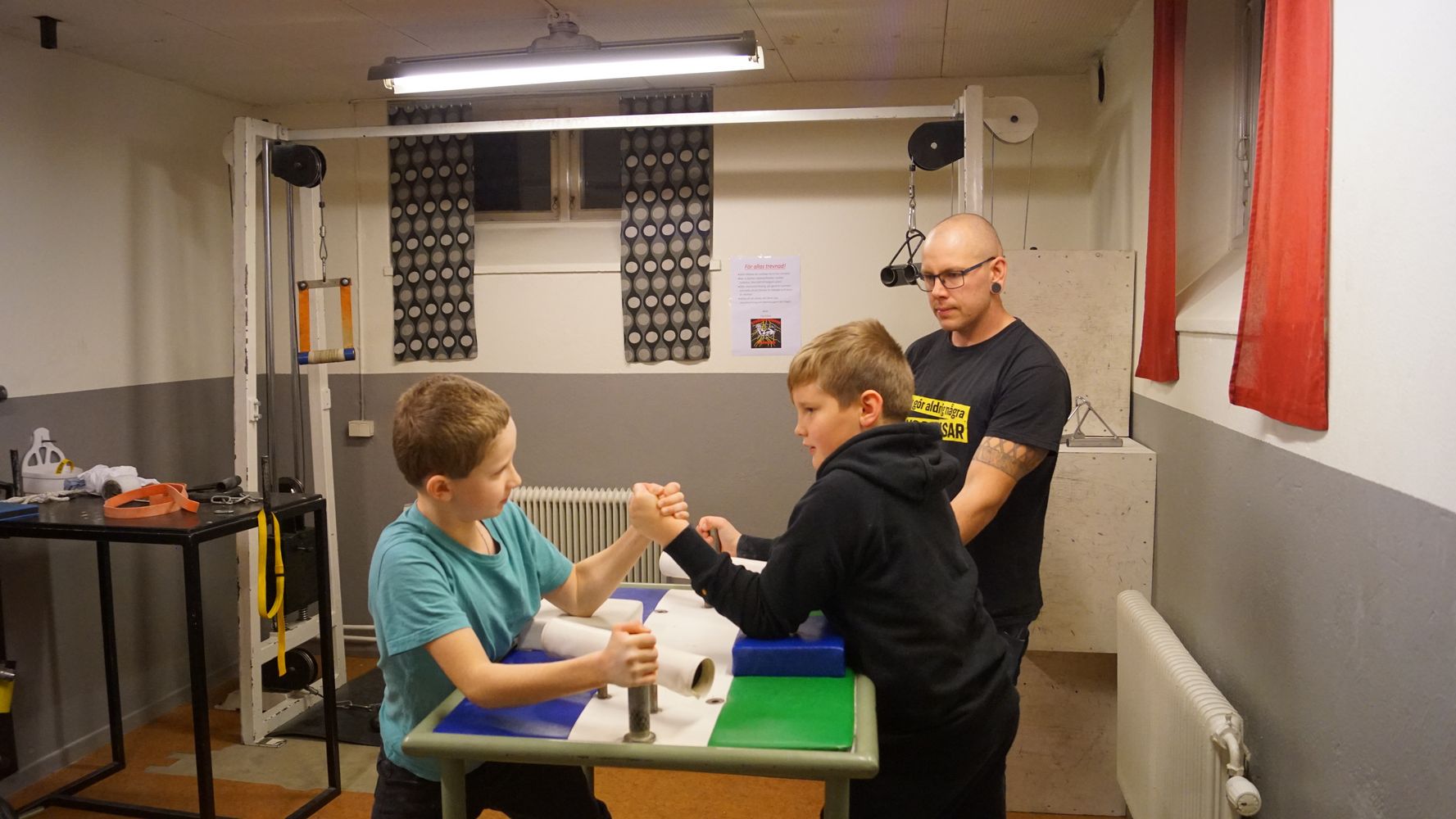 TV. Melker Ross and Tobias Sjölander and in the background Benny Johansson. Photo: Be
– A big goal for many in the association is the World Championship in Luleå at the end of March, the World Championship is also a basis for qualifying for the EC and the World Championship, 1st or 2nd in your class at the World Championships then you are qualified to represent Sweden at the next EC and WC. For the club's juniors, the Luciadunken in Storuman on September 12 applies in the first place, a competition where a large part of the best juniors in Sweden meet, the Strömbrytarna expects to field 7 to 8 participants. After that, the Norhterns Arms competition awaits in Arjeplog in February, this competition is open to all age groups and around 150 participants are expected.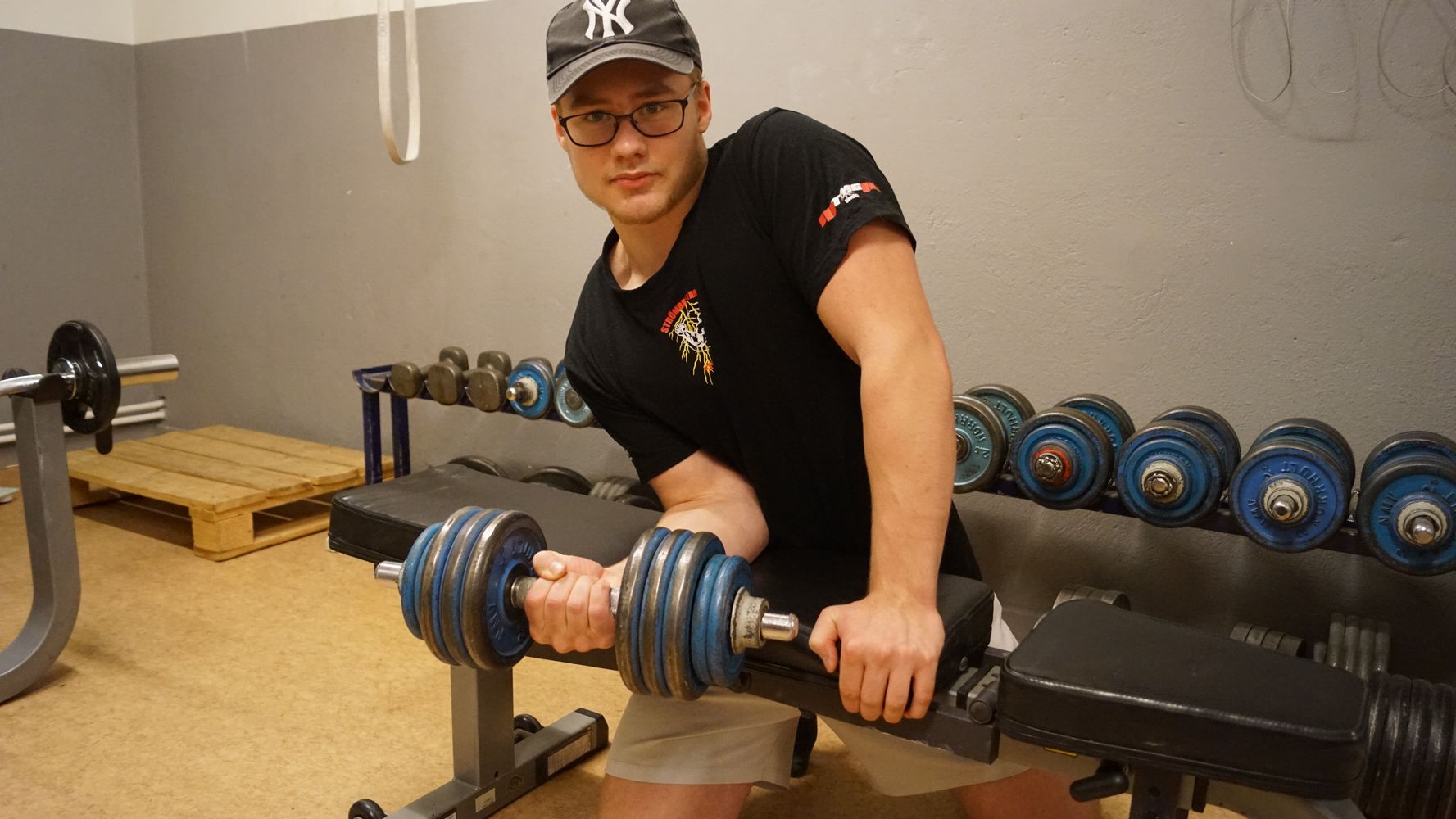 John Staff Olofsson.
TV Anton Sidén and Roger Eriksson seem to consider this training "fun and easy".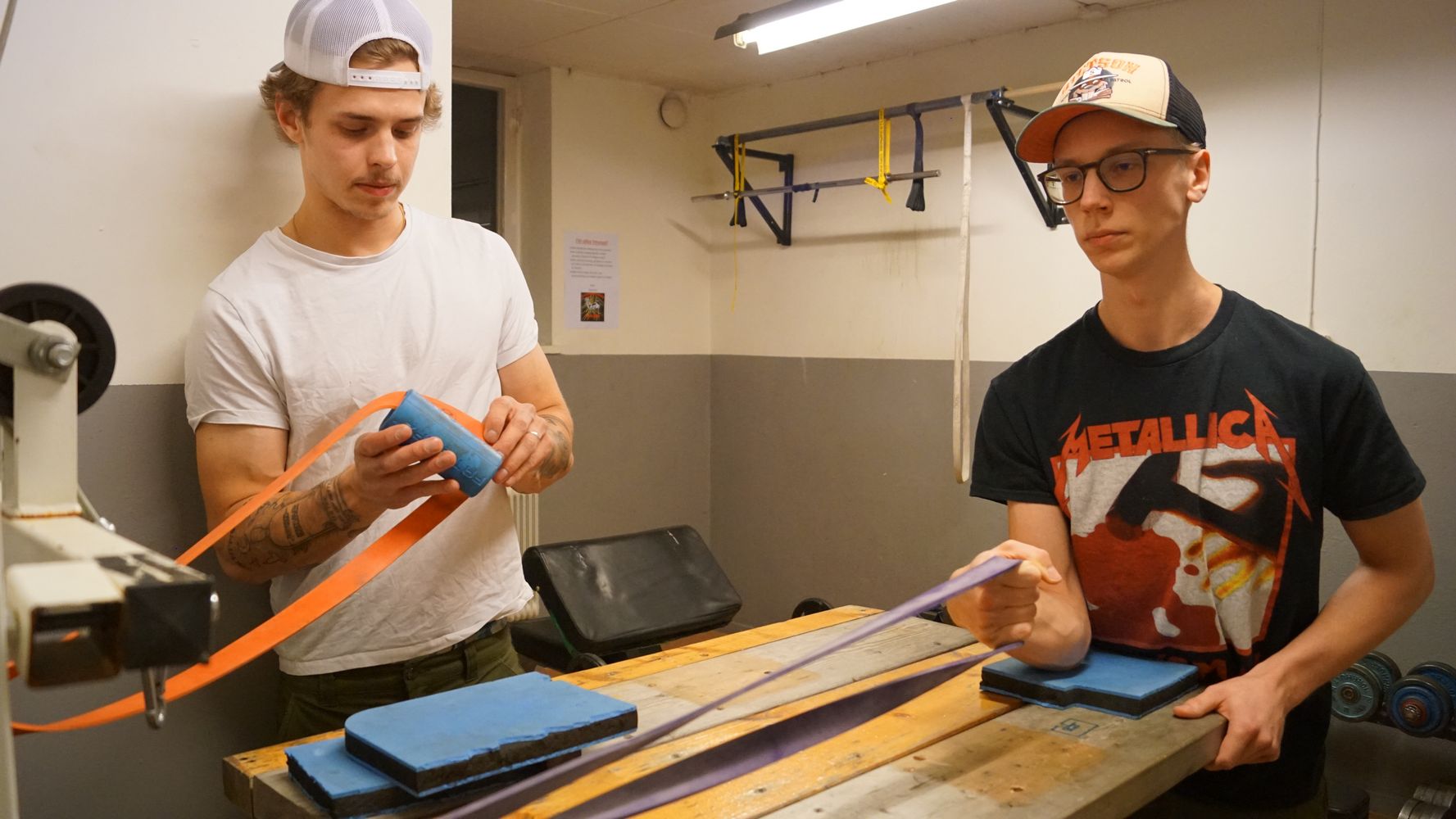 tv Lars Arvid Larsson together in the gym with Kai Johansson. Photo: Be
– Even if the future looks promising for the association, other members are welcome, in particular young juniors (7-12 years old) and girls of all ages, but of course also older people, It's never too late to get involved in arm wrestling. The hope is to be able to create a separate group of young juniors in order to be able to give these juniors the best conditions to develop, but then 3-4 additional juniors will be needed. Today, all age groups train together, this ensures a good community and cohesion within the association, but to offer young people the best training conditions according to their conditions, a separate training group for them is a hope, says Roger Eriksson about Strömbrytarna, of which he is president. And that's how it can be for those who train and begin to compete. "Strömsund father and daughter represented Sweden at European arm wrestling championships".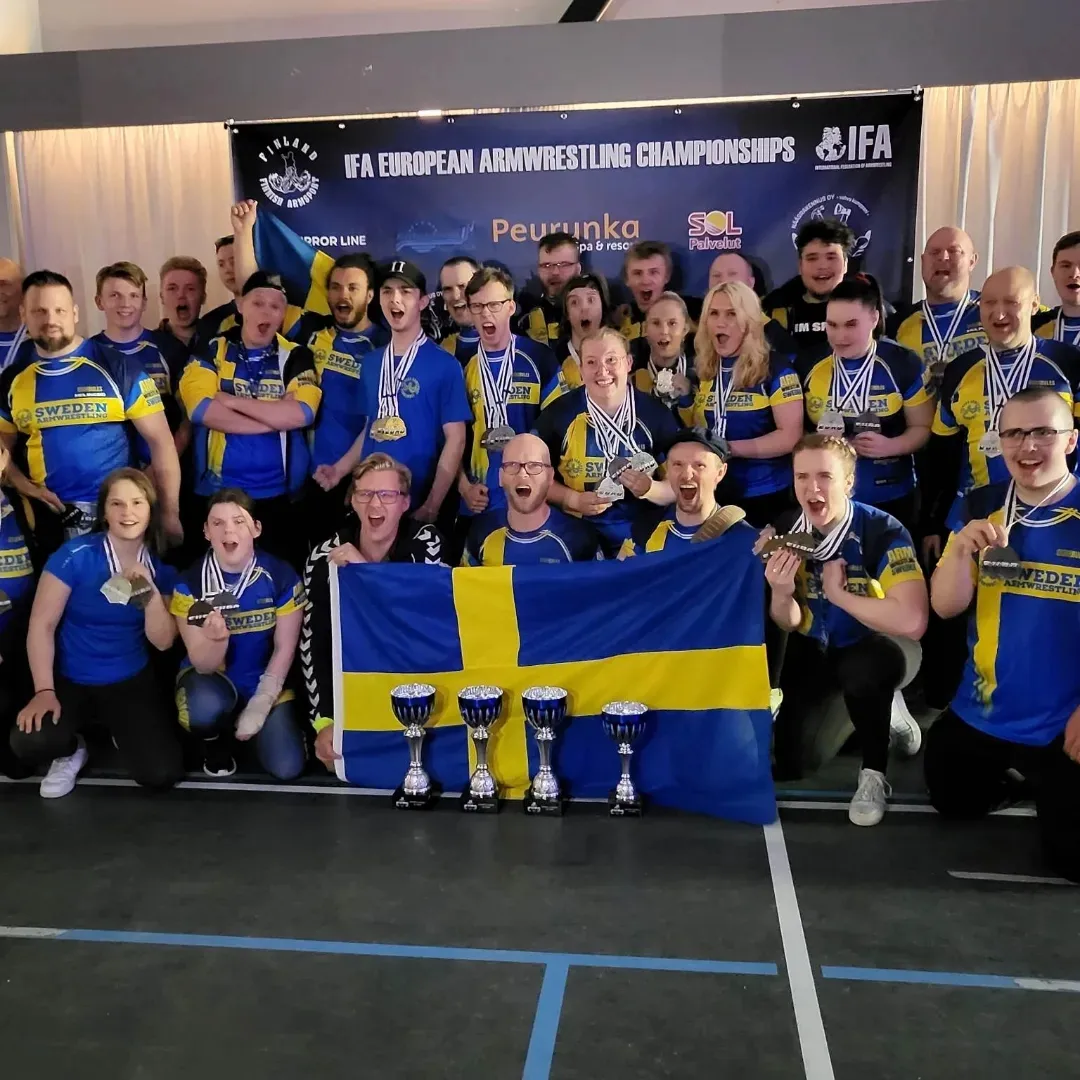 Photo: Private.
Text: Barbro Ericson
professional utility
"Professional food trailblazer. Devoted communicator. Friendly writer. Avid problem solver. Tv aficionado. Lifelong social media fanatic."